High/ Low Pressure Die Casting
The die casting process forces molten aluminum, magnesium, and zinc under high pressure and control speed into the cavities of two part tooling molds—a fixer die half and an ejector die half with the impression of the casting component fabricated into the die or mold. Pressure is maintained on the mold until the hot metal solidifies and once hardened, the die is opened to remove the casting.
Hot Chamber Die Casting
Used for zinc, some magnesium alloys, and other low-melting alloys that do not readily attack and erode metal pots, cylinders, and plungers.
Cold Chamber Die Casting
Better suited for metals with high melting points such as aluminum, metal is liquified and then ladled into a cold chamber where a hydraulically operated plunger pushes the metal into the die.
QC Mold provides high quality die-cast components produced using range of materials including aluminum, zinc, copper, brass and bronze alloys. We also perform necessary secondary operations on the die-cast parts such as finish machining, surface treatment etc.The die casting process is quite versatile and high-quality tools are used to produce high quality die cast components in volumes that go from a few thousand to millions of parts per year.

QC Mold is ISO 9001:2015 and AS9100D certified. Our die-casting plants are IATF 16949:2016 certified.
Benefits of Aluminum for your Die Casting Project
The most significant advantage of aluminum die casting compared to other processes like machining, or sheet metal forming is that aluminum can create intricate 3D designs very efficiently at a lower cost. Because of this, manufacturers are able to order customized castings that are ideal for their production needs. Aluminum die castings can turn molten metal into a near-net shape part in seconds, so machining or other operations can be eliminated.
Aluminum die castings are 100% r ecyclable and all of the material involved in the production of aluminum die castings is recycled. The ingot comes from recycled material and all of the excess material and any scrap castings are recycled in-house.

Material
QC Mold can provide Pressure Die Castings produced using hot chamber and cold chamber production die casting machines. Die cast components of any size and volume can be produced in die casting machines ("presses") – that range in tonnage from 80T to 3500T. Machine tonnage is selected based on a number of factors including part size and cavitation - the quantity of cavities in the tool. QC Mold offers a wide range of material selection, covering but not limited to, aluminum alloys, zinc alloys, brass, copper, magnesium.
【Aluminum Die Casting】 Used to produce light but strong parts.
【Zinc Die Casting】 Zinc is used to produce ductile plated parts.
【Magnesium Die Casting】Recommended in producing light parts that require a excellent strength but keeping the weight in check.
Fields of Application
QC Mold provides superior quality custom die casting parts and components for a wide range of industries including automotive, food dairy, machinery, medical, plumbing, watering, mining, petrochemical, electrical, energy, aerospace, submarine and others.We have a wide array of die casting machines and handle many of our secondary operations in house, using our extensive machining centers. We routinely build custom machines for specific customer requirements, in order to reduce their overall costs. Our goal is to efficiently improve the functionality and manufacture ability of your designs. We offer an extensive variety of die casting, machining, and finishing operations that enable us to complete your project efficiently and economically.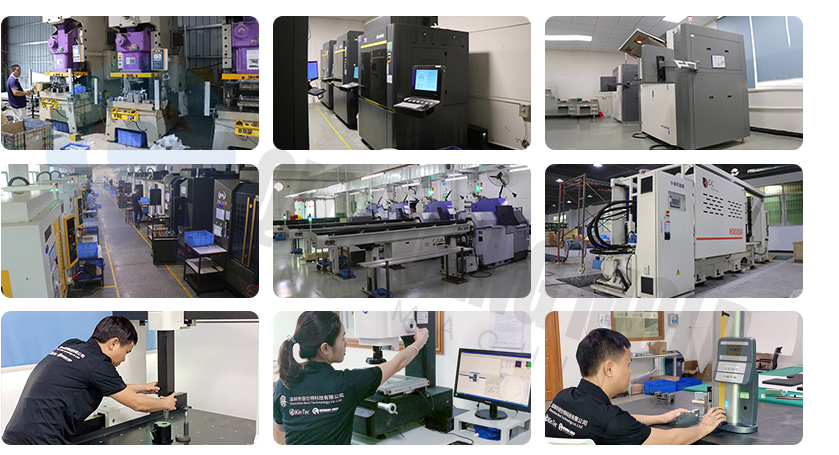 Die Cast Tooling

We offer die cast tooling and squeeze cast tooling design, engineering, and production tooling for advanced manufacturing processes for complex, high-performance products. Our die cast tooling solutions include tooling for precision aluminum and magnesium castings for complex products such as wheels, brake drums, and suspension components. Our high-speed machining and automated EDM (Electrical Discharge Machining) capabilities ensure superior die cast tooling performance providing unsurpassed castings with dimensional accuracy, tight tolerances, and smooth finishes.
Die Cast Tooling Advantages
Wide Range of Complex Applications
Excellent Dimensional Accuracy
Close Tolerances
Smooth Cast Surfaces
Casting Tensile Strength
Reduce or Eliminate Post Machining Operations
Rapid Production Rates
Finishing:
Post finishing includes blasting, polishing, plating, painting, printing, anodizing, and precision fine machining. Pressure die casting is a method of processing aluminum into engineering shapes by molding molten metal into hardened pressure die casting molds.
Secondary Operations & Machining
Production die casting tools are designed to produce components that meet dimensional requirements and the process can cast in external threads. When the finished dimensions and other features cannot be met by the casting process secondary operations are utilized to ensure specific features, areas and dimensions of the castings meet the required tolerances. Die castings are commonly drilled, tapped, reamed and are precision CNC machined to meet design criteria and dimensional tolerances required for product performance and quality.
Get Your Die Casting Project Started Today


With a range of finishing services to choose from and guaranteed quality thanks to our inspection services you can trust you will receive great parts every time. Once you send us your 3D CAD file, one of our customer service engineers will check your design for manufacturability to ensure that the part can be made to your expectations and budget requirements.

Contact us

today for a free quote!