What Is Rapid Prototype?
In nearly every single instance of product development, no matter what industry it's for, prototyping is a necessary stage that will ultimately determine whether your production efforts will be successful or not. Prototype is the first step in verifying product feasibility study, it usually be required for the new products that have just been developed or designed. Before being to market, We can found the defects, shortcomings and disadvantages of the new products, thereby improving it. Prototypes are useful for design improvement, as stepping stones to full production or for engineering testing. They are meant to be quick and economical, without the need for the investment in hard tooling. Many of our clients need to produce a physical part quickly in order to validate a design or to capture a fleeting sales opportunity.
Rapid prototyping means making a physical sample of a new product design idea. This is done as a preliminary step towards eventual production, and is most useful when verifying that the finished product will look, feel, and perform as intended. New product developers turn to rapid prototyping for several reasons. They're used for functional testing, approvals, design iterations, for crowdfunding campaigns, trade show models, and as a bridge to low-volume manufacturing.

Plastic Prototype
At QC mold, we specialize in the production of high-quality, low-cost prototypes. Our prototypes are widely used in the automotive prototype project, consumer electronic and household industries. From our companies, automotive prototype project are done with low times in a year but their parts value is very high, 4–5 times or even 10 times than normal prototypes, so their spending is very high. For Consumer Electronic and House Hold industries, even though their parts value is not so high as automotive , but their design will be often revised and prototype will be done many times, also their product value is middle.
If you have a great idea for a metal plastic product and need prototyping (sample) before batch production, please send your 2D/3D drawings, Our engineer will give you the best prototype solution according to the actual situation, and back to you a fast free quote!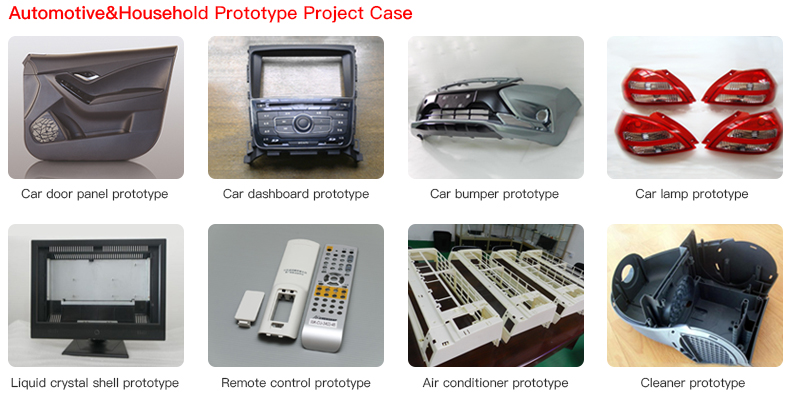 Selecting A Rapid Prototype (Sample) Processing
There are dozens of ways prototypes can be made. Ultimately, the goal is to help you select the best and low-cost prototyping process for your product development cycle. At QC mold, we offer from prototype (sample) to volume production service where we can provide you with 100,000+ plastic and metal parts. Our low-volume manufacturing options ensure that we can take you through the entire journey from prototype to bridge tooling to low-volume production.
PHOTO

PROCESS

DESCRIPTION

EXAMPLE MATERIALS

CNC

Computer Numerically Controlled Machining

Machined using CNC mills and lathes

Most commodity and engineering-grade thermoplastics and metals

IM

Injection Molding

Injection-molded using aluminum tooling

Most commodity ,

metal

and engineering-grade thermoplastics, and liquid silicone rubber



Vacuum casting

Vacuum Casting

Elastomers use a vacuum to draw the liquid material into the mold

Rubber-like polyurethanes




ABS-like polyurethanes




PE/PP-like polyurethanes




SLA

Stereolithography

Laser-cured photopolymer

Thermoplastic-like photopolymers




SLS

Selective Laser Sintering

Laser-sintered powder

Nylon, TPU

DMLS

Direct Metal Laser Sintering

Laser-sintered metal powder

Stainless steel, titanium, chrome, aluminum, Inconel

FDM

Fused Deposition Modeling

Fused extrusions

ABS, PC, PC/ABS, PPSU
At QC Mold, with years of experience and practical case studies, CNC machining, injection molding and vacuum castingare the most commonly used prototyping processing which can meet almost all customers for all kinds of material products requirements.
CNC Machining
CNC machining is ideal for making high-quality rapid prototypes from plastic or metal without investing in expensive tooling. Your parts will achieve tighter tolerances with better surface finishes than with other prototyping methods. We can also machine all the features needed for a fully functional part, including tapped and threaded holes and precisely flat surfaces.we use advanced equipment to offer you a variety of CNC machining services including milling, turning, EDM and wire EDM, surface grinding and much more. One-stop shop for all your machining projects. Contact us to learn more about our CNC machining service.
Injection Molding
Rapid prototyping can also come in the form of injection molded parts. How? Rapid tooling (bridge tooling) delivers low volume production quality parts (up to 100,000) from production resins. Think of rapid injection molding as end use prototype manufacturing. End use because your parts are identical to production parts. Prototype because the lead times and costs of rapid injection molding are significantly reduced compared to full production tooling.
Vacuum Casting
Vacuum casting or cast urethanes is a perfect solution for production quality parts without the cost or lead time required for production tooling. At QC mold we can cast parts as large and small, everything from headphones all the way up to 2m long car bumpers. We have a massive range of materials available for your projects.
Advantages Of Making A Prototype
How can making a prototype help you and your business? Using rapid prototyping to manufacture parts to test for component fit and function can help get your product to market faster than your competition. Adjustments in design, materials, size, shape, assembly, color, manufacturability, and strength can be made following the results of your testing and analysis. Here are just some of the ways:
●Test the market with your product before production
●Improve and streamline the production process
●Save time and money by identifying and reducing design flaws
●Demonstrate the appearance, dimensions and features of your product
●Show your customers and investors a physical model of your product
●Create multiple versions with different colors, surface textures and finishing process
Get Your Prototyping Project Started Today
With a range of services to choose from and guaranteed quality thanks to our inspection services you can trust you will receive great prototypes every time.

Contact us

today for a free quote!