A
t qc mold,We have more then 10 years of professional experience in manufacturing parts,in particular CNC turing service,CNC milling service.Our custom CNC turning service is ideal for quick production of small to medium batches of parts, we specialize in machining metal, plastic and all kinds of parts.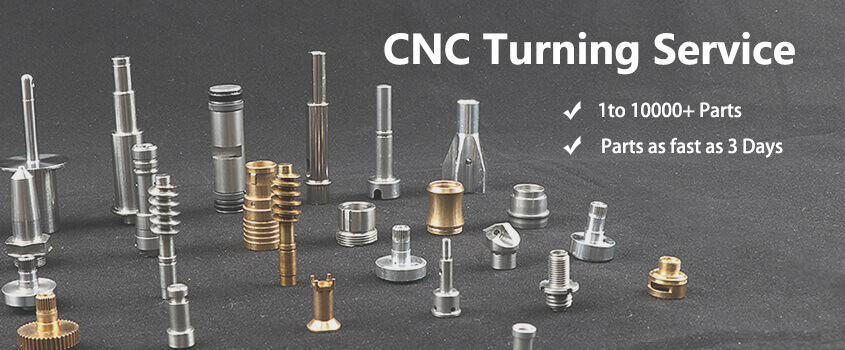 What is CNC turning?

-Turning is a machining process in which a cutting tool,typically a non-rotary tool bit,describes a helix toolpath by moving more or less linearly while the workpiece rotates.

-The general process of turning involves rotating a part while a single-point cutting tool is moved parallel to the axis of rotation.Turning can be done on the external surface of the part as well as the internal surface.



Our CNC Turning Capabilities
QC MOLD has more than 50 precision CNC equipmento and experienced engineer team.Our expert engineers deliver highly stable and reliable engineering solutions. empowering innovation with precision engineered components.We are a professional OEM metal parts CNC processing service factory in China.
Materials for CNC Turning
we work with a wide range of materials,metal alloys and plastics,including aluminum,steel,stainless steel,brass,copper,titanium,magnesium alloy,zinc alloy,nylon,PE,POM,etc.
The Characteristics of CNC Turning




● High processing precision,quality assurance


● Accuracy and flexibility


● Short processing time and high production efficiency

● High degree of automation,mass production






CNC Custom Components

QC MOLD has the ability to process various alloys into many different parts (machined components or precision turned components),which are used in different industries.Examples of parts include but are not limited to adapters,brackets,joints,covers,sleeves,fittings,etc.Has rich processing experience in industries such as auto parts,medical equipment,aviation and artificial intelligence.

At QC MOLD,we provide many types of machining processes,including CNC machining,Swiss turning,automatic screw machining and grinding.Contact us to start your custom project.
OUR ADVANTAGE
| | | | |
| --- | --- | --- | --- |
| | | | |
| ADVANCED MANUFACTURING TECHNOLOGY | EXPERIENCED ENGINEERS | DELIVERY ON TIME | ISO 9001:2015 CERTFIED |
| We provide advanced manufacturing service in technologies like CNC machining,swiss turning service,CNC milling&turning service,die casting,injection molding. | Team of expert engineers with more than 10 years of experience. | Self-owned factory,delivery on time. | Mature produce technology,quality assurance. |


Looking for an OEM looking for reliable and high quality parts?QC MOLD provides the highest quality precision parts machining,CNC turning service and more.Our precision CNC turned parts are used in various industries including medical,automotive,artificial intelligence and automation,electronics and more.Contact us today for all your needs!