What is CNC Milling
CNC milling is used to apply a machined surface finish on plastic or metal or for creating complex 3D shapes. Milling is the process of machining using rotary cutters to remove material by advancing a cutter into a workpiece. This may be done varying direction on one or several axes, cutter head speed, and pressure. Milling covers a wide variety of different operations and machines, on scales from small individual parts to large, heavy-duty gang milling operations. It is one of the most commonly used processes for machining custom parts to precise tolerances.
We are Full Equipped to Take on Any CNC Precision Machining Job
At QC Mold, we use advanced equipment to offer you a variety of CNC machining services including milling, turning, EDM and wire EDM, surface grinding and much more. Using our imported 3, 4 and 5-axis CNC machining centers, our skilled machinists can make turned and milled parts using a wide range of plastic and metal materials.Whether you require a one off model for fit and function, a small batch run for marketing and testing or low volume production Qi Chuang has the solution for you.
The combination of superior equipment and the unsurpassed knowledge and experience of our team members enables QC Mold to provide the best CNC services to our customers. We are known for our lightning-fast turnaround times, regardless of project size or scope. This allows our customers to keep up with their demanding production schedules while still experiencing a low per-piece rate that increases machining project profitability.

CNC Machining Materials
Metal : Kovar, Steel, aluminum, stainless steel, brass, copper, titanium etc.
Plastic :Acrylic \ Liquid crystal polymer \ Long-fiber reinforced plastics \ Noryl (PPO and PS) \ Polysulfone, PC, PET, PE, PPS, PP, PS, PU, PBT, PEI, Peek , PTE, PVC etc.
Contact us to know more about materials
EDM / Wire EDM And Surface Grinding
EDM (electrical discharge machining) is a method for cutting pockets, holes, and other shapes into hardened steel, as well as imparting a surface texture to the internal cavities of mold tools. A sacrificial electrode in an electrolyte bath discharges a high-powered electric spark to erode very hard materials that would be difficult or impossible to do with any other method. Square pocket holes are often created with this method.
With wire EDM, a copper wire is continuously fed between two spools. When electrically charged, it's able to cut through hardened tool steels quickly and accurately.
At QICHUANG, we also offer surface grinding services. When surface grinding the work piece is held stationary on a horizontal plate. The surface grinding wheel is computer controlled to abrade the work piece to a precise depth.
Finishing Services
Our engineers are experts in achieving the perfect finish for your product. With painting, vapor polishing, sanding, anodizing and many other services to choose from, you can create the exact look you want.
Anodizing, Painting, Pad Printing, Color Matching, Sanding and Polishing, Vapor Polishing, Blasting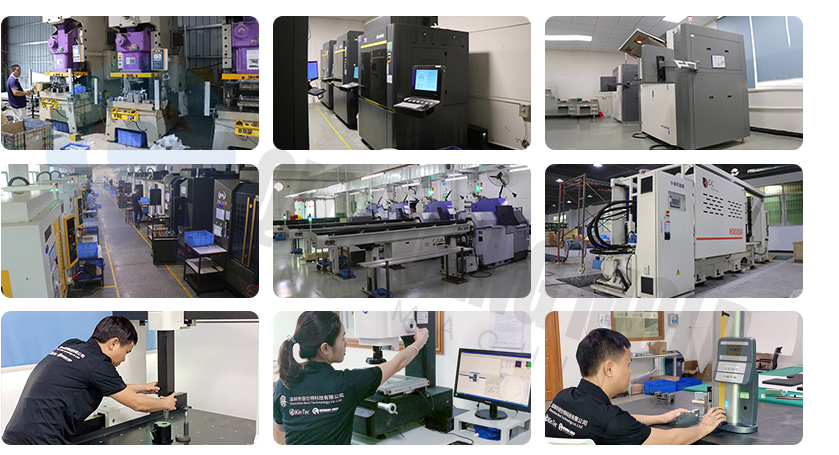 For instant quote please send your 3D drawings to info@qc-mold.com we will get back to you within 12 hours